In honor of Environmental Awareness Month, the University Notre Dame Press is excited to highlight seven works that bring to light all things environmental! These texts cover all things from religion to politics (and more!) within the lens of environmental concern and appreciation.
---
An Inconvenient Apocalypse
In An Inconvenient Apocalypse: Environmental Collapse, Climate Crisis, and the Fate of Humanity, Wes Jackson and Robert Jensen argue that we must reconsider the origins of the consumption crisis, and the challenges we face in creating a survivable future, and that longstanding assumptions about economic growth and technological progress are no longer tenable. They weave a secular reading of theological concepts—the prophetic, the apocalyptic, a saving remnant, and grace—to chart a collective, realistic path for humanity not only to survive our apocalypse but also to emerge on the other side with a renewed appreciation of the larger living world.
"With intrepid honesty, tenderness, and grace, Jackson and Jensen lay out a clear framework for making sense of the most elusive complexities of climate crisis. Through kindred reflections and incisive analysis, they boldly enlighten readers of the probable and the possible in the decades to come. An affirmation and solace for the weary. A beacon for those seeking courage and understanding in unsettling times."

—Selina Gallo-Cruz, author of Political Invisibility and Mobilization
Agrarian Spirit
In Agrarian Spirit: Cultivating Faith, Community and the Land, Norman Wirzba shows that a human life is inextricably entangled with the lives of fellow animals and plants, and that individual flourishing must always include the flourishing of the habitats that nourish and sustain our life together. Far from being the exclusive concern of a dwindling number of farmers, this book shows how agrarian practices are an important corrective to the political and economic policies that are doing so much harm to our society and habitats. It is an invitation to the personal transformation that equips all people to live peaceably and beautifully with each other and the land.
"With uncommon depth and breadth, Norman Wirzba's Agrarian Spirit urges us to embrace and celebrate human and non-human creatures as co-becoming, embodied expressions of God's creating and sustaining love. He urges us to acknowledge our self-insufficiency and our dependence on others as a gift and as a challenge to develop the nurturing relationships that can heal our world and inspire our hope."

—Steve Bell, author of the Pilgrim Year book series
Lessons from Walden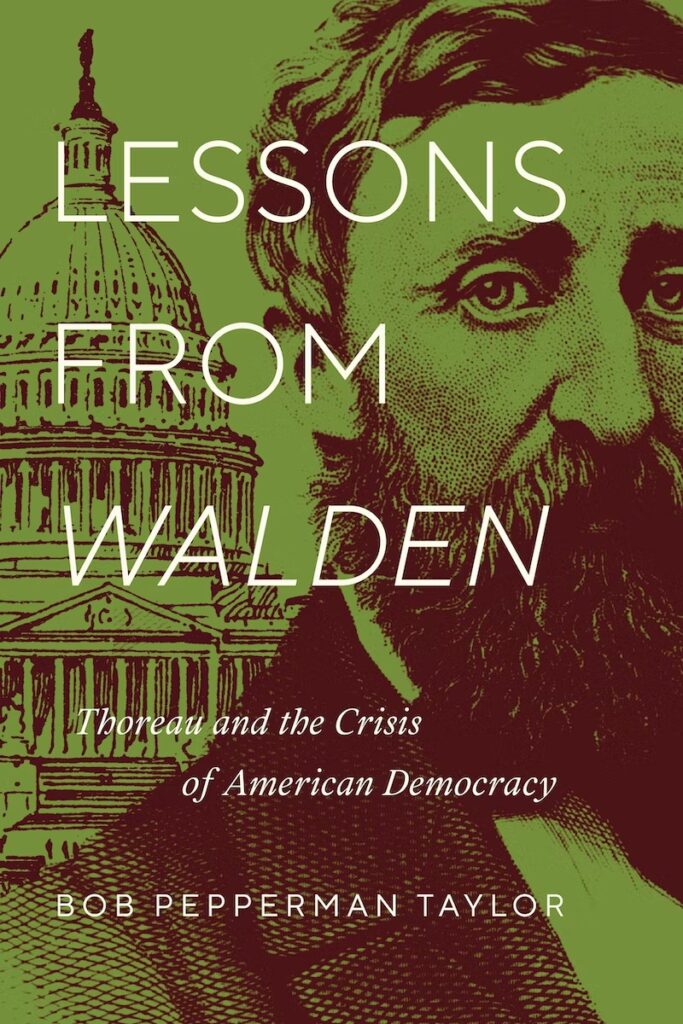 Throughout Lessons from Walden: Thoreau and the Crisis of Modern Democracy, Bob Pepperman Taylor presents a wide-ranging inquiry into the nature and implications of Henry David Thoreau's thought in Walden and Civil Disobedience. Taylor pursues this inquiry in three chapters, each focusing on a single theme: chapter 1 examines simplicity and the ethics of "voluntary poverty," chapter 2 looks at civil disobedience and the role of "conscience" in democratic politics, and chapter 3 concentrates on what "nature" means to us today and whether we can truly "learn from nature." With its tone of friendly urgency, this interdisciplinary tour de force will interest students and scholars of American literature, environmental ethics, and political theory, as well as environmental activists, concerned citizens, and anyone troubled with the future of democracy.
"Bob Taylor's Lessons from Walden brings Thoreau's classic text to bear on the present moment, into Trump's America, into an age of environmental degradation, into a time of cultural self-absorption, instrumental rationality, and neoliberal indifference to what is local, communal, and particular."

—Shannon Mariotti, author of Thoreau's Democratic Withdrawal
Land!
In Land!: The Case for an Agrarian Economy, John Crowe Ransom presents the weaknesses inherent in capitalism and argues convincingly that socialism is not only an inadequate alternative but inimical to American sensibilities. He proposes instead that agrarianism, which could flourish alongside capitalism, would relieve the problems of unemployment and the "permanently unemployed." This previously unpublished work unites Ransom's poetic sensibilities with an examination of economics at the height of the Great Depression.
"The modern reader cannot help but be struck by the current timeliness of Ransom's observations about rootless people condemned as cogs in an economic wheel, liable to be cast aside when they no longer serve the purpose of the moment. Meanwhile, the flight from the farm has continued unabated for nearly a century, while the inherent problems of industrial capitalism that Ransom observed remain."

—The Abbeville Review
Religion and the New Ecology
Most contemporary ecologists conceive of nature as undergoing continual change and find that "flux of nature" is a more accurate and fruitful metaphor than "balance of nature." The contributors to Religion and the New Ecology: Environmental Responsibility in a World in Flux address how this new paradigm fits into the broader history of ecological science and the cultural history of the West and, in particular, how environmental ethics and ecotheology should respond to it. Religious reflection and practice point the way toward a new humility in making the tough decisions and trade-offs that will always characterize environmental management.
"The authors firmly believe that religion has much to offer to modern environmentalism. They pragmatically argue that we need to engage with American Christians specifically, simply because of their prominence. More important, the authors genuinely believe that Christianity has the potential to contribute to a renewed environmental ethic; they unanimously dismiss Lynn White's infamous thesis that Christianity is essentially the cause of ecological degradation."

—BioScience
Engaging with Nature
Historians and cultural critics face special challenges when treating the nonhuman natural world in the medieval and early modern periods. Their most daunting problem is that in both the visual and written records of the time, nature seems to be both everywhere and nowhere. This challenge is deftly handled by the contributors to Engaging with Nature: Essays on the Natural World in Medieval and Early Modern Europe, whose essays provide insights into such topics as concepts of animal/human relationships; environmental and ecological history; medieval hunting; early modern collections of natural objects; the relationship of religion and nature; the rise of science; and the artistic representations of exotic plants and animals produced by Europeans encountering the New World.
"Engaging with Nature vividly captures the breadth and depth of human interactions with the natural world in premodern Europe. Its multidisciplinary approach generates new questions about how Europeans understood and connected with nature and delves into issues that will interest the specialist and the general reader alike. The book challenges readers to rethink not just the history of human engagement with nature but also the many ways the past has influenced our modern conceptions of ecology and environment."

—James Masschaele, Rutgers University
Unearthed
In Unearthed: The Economic Roots of Our Environmental Crisis, Kenneth M. Sayre argues that the only way to resolve our current environmental crisis is to reduce our energy consumption to a level where the entropy (degraded energy and organization) produced by that consumption no longer exceeds the biosphere's ability to dispose of it. The book articulates that economic growth is motivated by social values; key among them are the desire for wealth and consumer values including gratification, convenience, and acquisition of goods. Sayre maintains that economic growth can be reversed only by eliminating these social values in favor of others more conducive to environmental health.
"This is a well-written, well-organized, thorough book. Sayre leads the reader to the conclusion that to avoid catastrophe, humankind must change its fixation on continued economic growth and learn to live sustainably. . . . Sayre writes a short but excellent history of the modern environmental movement highlighting no-growth economics as a future alternative path for humankind."

—Choice