The Catholic Media Association recently announced the winners of the Catholic Media Association 2023 Book Awards during the Catholic Media Conference in Baltimore, Maryland. This program recognizes the outstanding work of publishers, authors, and book editors that support the faith-filled life of Catholic readers. We are excited to announce that eight outstanding books from Notre Dame Press have received top honors this year.
Who Are My People?: Love, Violence, and Christianity in Sub-Saharan Africa by Emmanuel Katongole

• First Place, Gender Issues – Inclusion in the Church •

"Emmanuel Katongole is quietly but beautifully introducing a new methodology for doing theology in Africa." —Stan Chu Ilo, author of A Poor and Merciful Church

This book is part of our Contending Modernities series.
Renewing Theology: Ignatian Spirituality and Karl Rahner, Ignacio Ellacuría, and Pope Francis by J. Matthew Ashley

• Second Place, Theology •

"J. Matthew Ashley investigates Ignatian spirituality and three prominent 20th-century theologians who embraced its spiritual resources: Karl Rahner, Ignacio Ellacuria, and Jorge Mario Bergoglio—that is, Pope Francis. Ashley offers case studies to show how each Jesuit responded to the challenges of modernity in a way that is uniquely nourished and illuminated by themes constitutive of Ignatian spirituality." —American Catholic Studies Newsletter
Catholics without Rome: Old Catholics, Eastern Orthodox, Anglicans, and the Reunion Negotiations of the 1870s by Bryn Geffert and LeRoy Boerneke

• Third Place, History •

"This volume is a valuable, even a necessary, piece of the modern story of Christianity. I think such a marvelous work echoes some of the similar discerning outlook of Diarmaid MacCulloch's splendid Christianity: The First Three Thousand Years." —Michael Plekon, author of The World as Sacrament
Retrieving Freedom: The Christian Appropriation of Classical Tradition by D. C. Schindler

• Third Place, Faithful Citizenship/ Religious Freedom •

"Retrieving Freedom is an impressive volume that locates the nature of free will in the very depth of both history and metaphysics. This is a much-needed contribution that will situate the questions of free will in the only horizon that can make them intelligible: a horizon in which we can get into view the very meaning and purpose of our freedom." —Anselm Ramelow, OP, editor of God: Reason and Reality

This book is part of our Catholic Ideas for a Secular World series.
The Bible and the Crisis of Modernism: Catholic Criticism in the Twentieth Century by Tomáš Petráček

• Third Place, English Translation Edition •

"While we have any number of good scholarly books on modernism, there has not been such a thorough account of its history in relation to the great debates about biblical hermeneutics as The Bible and the Crisis of Modernism." —Lawrence Cunningham, editor of The Norton Anthology of World Religions: Christianity
The Whole Mystery of Christ: Creation as Incarnation in Maximus Confessor by Jordan Daniel Wood

• Honorable Mention, Theology •

"Wood's ingeniously original interpretation demonstrates that Maximus is still as revolutionary and enigmatic a Christian thinker now as he ever was, and that the real Maximus needs to be rescued from the sort of scholarship that has too often sought to tame his exorbitant genius." —David Bentley Hart, author of You Are Gods
Afro-Atlantic Catholics: America's First Black Christians by Jeroen Dewulf

• Honorable Mention, History •

"Black Christianity in America has long been studied as a blend of indigenous African and Protestant elements. Jeroen Dewulf redirects the conversation by focusing on the enduring legacy of 17th-century Afro-Atlantic Catholics in the broader history of African American Christianity." —American Catholic Studies Newsletter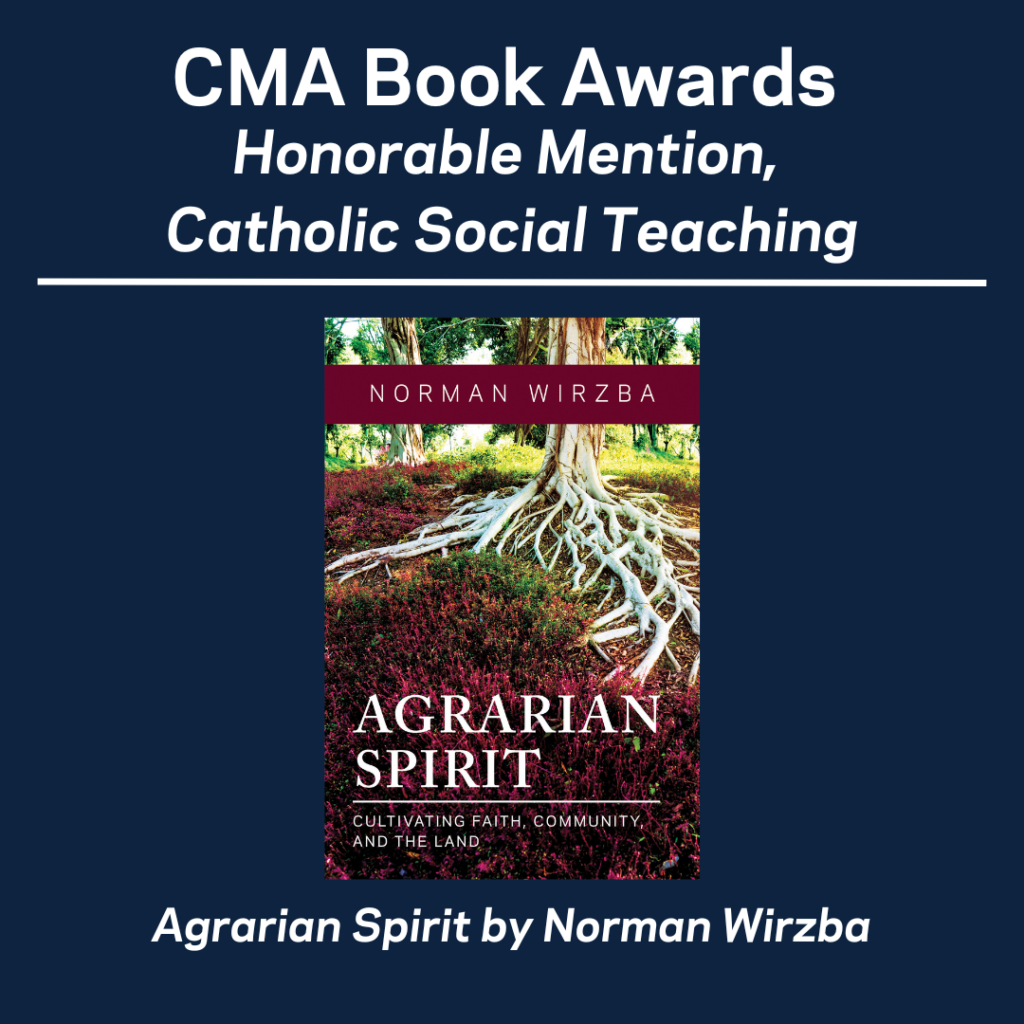 Agrarian Spirit: Cultivating Faith, Community, and the Land by Norman Wirzba

• Honorable Mention, Catholic Social Teaching •

"At its heart, this book is an attempt to prompt readers to think more deeply about themselves as but one creature among many in God's creation and to live more lovingly and gently in creation as a result. . . . Readers will find this a source of inspiration for pursuing a more bountiful way of life among God's other creatures." —Reading Religion
These books are available at undpress.nd.edu or wherever books are sold. We encourage you to support your local independent bookstore either in person or online. For more information, contact: Steffi Marchman, shoffma7@nd.edu, 574.631.4905.